NIH All of Us Research Program: Precision Medicine Initiative Provider Tool Kit
2:00-3:00 pm (ET)
Webinar Description
The All of Us Research Program is a bold new effort led by the National Institutes of Health. This webinar will familiarize participants with this nationwide initiative and will provide an overview of the program - definition, rationale, and protocol. Dr. Usha Menon from the University of Arizona helps to lead this program, which aims to speed health research by asking one million people to join a new research community. These volunteers will provide the types of information that will help create individualized prevention, treatment, and care for all of us.
Objectives:
Describe the All of Us Research Program (AOURP)
Explain the Precision Medicine Initiative Provider toolkit
Pricing and CE Credit
This webinar is free to deans, faculty, staff and students from AACN member schools of nursing. All non-member audiences will be required to pay a $59 webinar fee.
Continuing Education Credits:
Eligible attendees may receive one continuing nursing education (CNE) contact hour for participating in this webinar. The American Association of Colleges of Nursing (AACN) is an accredited CNE-provider by the American Nurses Credentialing Center's Commission on Accreditation.
Speakers
| Name | Organization | Speaking At |
| --- | --- | --- |
Speaker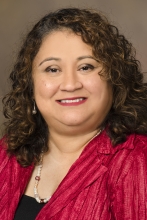 Usha Menon, PhD
Associate Dean for Research & Global Advances
Professor
University of Arizona
College of Nursing
Co-Principal Investigator
All of US Research Program at University of Arizona-Banner Health
Usha Menon, PhD, RN, FAAN is Professor and Associate Dean of Research and Global Advances at The University of Arizona (UA) College of Nursing in Tucson, Arizona and a member of the UA Cancer Center. She is co-Principal Investigator of the All of Us Research Program at UA-Banner Health (the Precision Medicine Initiative). The emphasis of her research is on increasing early detection of cancer among aging and underserved minority populations and promoting health equity in cancer and diabetes outcomes using rigorous theory-based models of inquiry. In the global health arena, Dr. Menon focuses on nursing workforce and curriculum development and interprofessional education, specifically in Ethiopia and India as well as cervical cancer screen-and-treat programs in sub-Saharan Africa and India with a focus on translational and team science. Dr. Menon is a Fellow in the American Academy of Nursing; a Sigma Theta Tau International Nurse Researcher Hall of Fame inductee; and a Top 100 Alumni Legacy Leader by the Indiana University School of Nursing. She is the 2016 Distinguished Alumni Award recipient from Lander University in Greenwood, South Carolina.
Location Information
Washington, DC
Continuing Education