Improving Communication and Care of Patients with Autism in Healthcare Settings
IMPORTANT UPDATE: This webinar has been rescheduled to January 24, 2024. We apologize for any inconvenience. Click here to register for the January 24, 2024 webinar.
Webinar Details
Autism diagnosis rates and associated co-morbidities continue to rise. Yet, many who work in the healthcare field have limited understanding of the autism spectrum and how autism manifests. Hear from experts who will provide the latest evidence and information on supportive interventions to better care for both the patients and families living with autism.
Objectives:
Learn to recognize autism characteristics and the common challenges associated with autism in the healthcare setting.
Increase understanding of how to effectively manage environments of patients and families living with autism and identify strategies to reduce risk of behavioral challenges.
Gain knowledge to enhance communication about autism to improve outcomes for patients and families.
Expand awareness of healthcare avoidance by patients and families living with autism.
Hosted by the Faculty Leadership Network
Speakers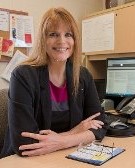 Sharon L. Colley, PhD, DNP, RN, ACAC, CNE
Professor
Ferris State University School of Nursing
Dr. Sharon Colley has been a nurse for 34 years, working for many years in mental health as well as med-surg, rehab, and ambulatory care prior to moving into a faculty position in 2006. She earned a PhD in higher ed leadership and a DNP in nursing leadership. Dr. Colley has a passion for education and preparing nurses to be educators. She has earned certification as a nurse educator, as an advanced autism specialist, and as a neurodiversity professional. She has also earned several awards for her teaching, including the Ferris State University Distinguished Teacher Award in 2016.
Sharon's interest in providing information sessions for healthcare professionals stems in part from her own experiences as the parent of a child with autism as well as her DNP project work that focused on improving healthcare environments for those with autism.
Pricing and CE Credit
This webinar is free to deans, faculty, staff and students from AACN member schools of nursing. All non-member audiences will be required to pay a $59 webinar fee.
Continuing Education Credits
Eligible attendees may receive one continuing nursing education (CNE) contact hour for participating in this webinar. The American Association of Colleges of Nursing (AACN) is an accredited CNE-provider by the American Nurses Credentialing Center's Commission on Accreditation.
Site Maintenance
Our system is currently down for scheduled maintenance. Your member services will be available again shortly. Please check back soon.